back to top
How do I pair my AlpinerX with my phone?
To pair your watch, launch the application, press the crown on your watch to wake up the Bluetooth® radio, then press the "start" button in the application. Keep your watch close to your phone during the pairing process. You will be prompted to push the crown on your watch one more time to complete the pairing. When complete, you will be prompted to setup your profile.
back to top
What is the AlpinerX application?
The widely used, patented MMT sensor-fusion engine inside your AlpinerX smartwatch tracks activity, sleep patterns and sensors (altitude, pressure, UV, compass). Daily activity (steps, calories, and distance), sleep and sensor information is presented accurately in real- time on its LCD screen.
Simple and easy-to-understand graphics highlight how much you have moved and slept during the day, week, or month. Goals and dynamic coaching help encourage a better self-awareness and understanding, which in turn fosters well-being. You can as well visualize the history of high-tech sensors.
To sync data, your smartwatch connects to your phone or tablet via Bluetooth. Launch the AlpinerX app and press the smartwatch's crown button to connect. Your data will sync with the app once it has connected.
Your data syncs every minute automatically when the app is open and your AlpinerX smartwatch has established a Bluetooth connection with your phone or tablet. Once the sync is complete, you can immediately review your progress in the app.
back to top
How do I synchronize my AlpinerX watch with the AlpinerX Application?
Launching the AlpinerX application or bringing it to the foreground on your device, accompanied by a press of the crown of the watch will typically initiate a sync with your watch. If your watch doesn't start syncing automatically after a few seconds, make sure Bluetooth is enabled on your phone and try moving your watch closer to your phone. If your watch and phone are already a few centimeters apart, try giving the crown on your watch a press to wake up the Bluetooth radio. If you continue having trouble syncing, force quit AlpinerX, then relaunch.
If you continue having trouble syncing, turn your device's Bluetooth setting off and back on again. If this does not work, turn off your device and re-start it. Smartphones and tablets, like computers, need to be rebooted periodically to function optimally. Also verify your phone or tablet is above 20% battery level. Several devices will conserve power when battery drops under 20%. If you are having trouble connecting or pairing, please make sure your phone is charged above 20%. Some devices will not connect over Bluetooth even when plugged into a power source if the device's battery level is below 20%.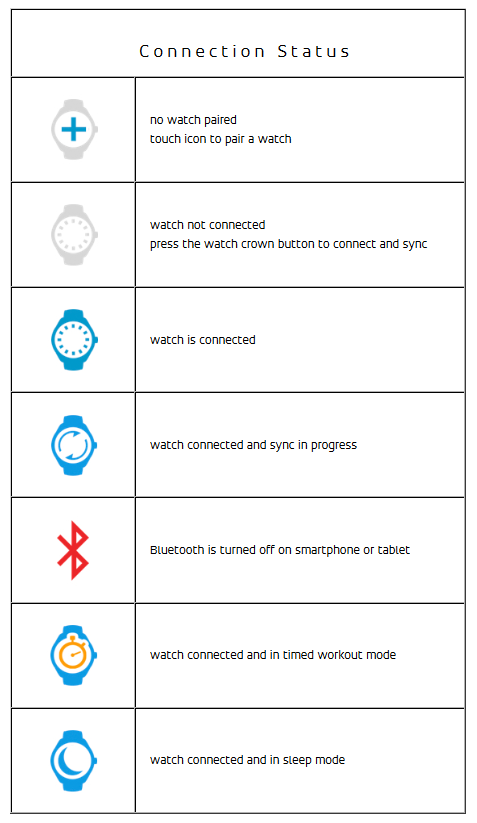 back to top
How do I read the Dashboard?
Each colored ring represents your goal completion percentage: activity, sleep and coach.
Touch one of the goal percentages to view detailed graphs and data.
The Menu button on the lower left corner of the screen gives access to the Application actions such as change modes, access settings and share/export your data.
The Dashboard shortcut on the lower right corner of the screen is highlighted in blue when you are currently on the Dashboard screen. Touch this icon from any other screens to return to the Dashboard.
You can swipe Dashboard screen to access Activity, Sleep and Sensors data.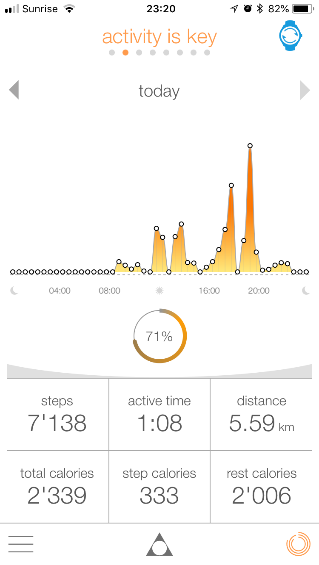 back to top
How do I configure my AlpinerX?
To access details about your connected AlpinerX, touch the watch button that is always at the top right corner of the application interface.
Touch align hands button to calibrate the watch hands.
Touch watch update to check for firmware updates for your watch. Updates are installed wirelessly via your smartphone or tablet.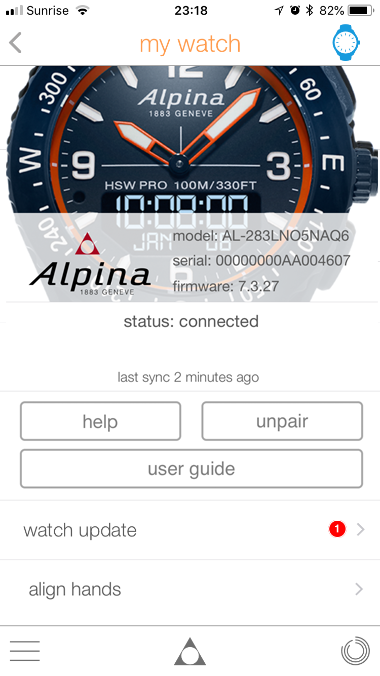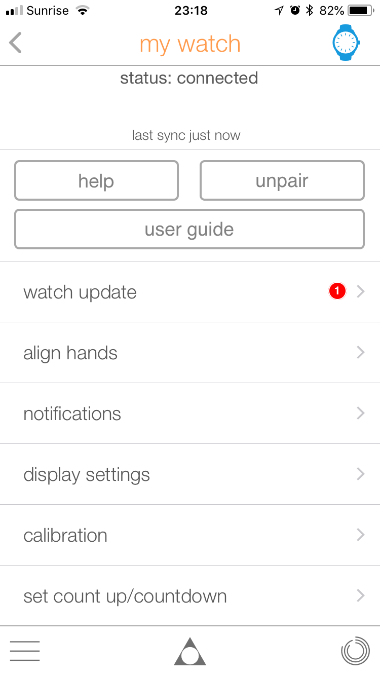 back to top
How do I navigate in the AlpinerX functions?
With pushers at 2, 3 and 4 o'clock, you can navigate in the watch functions and sub-functions.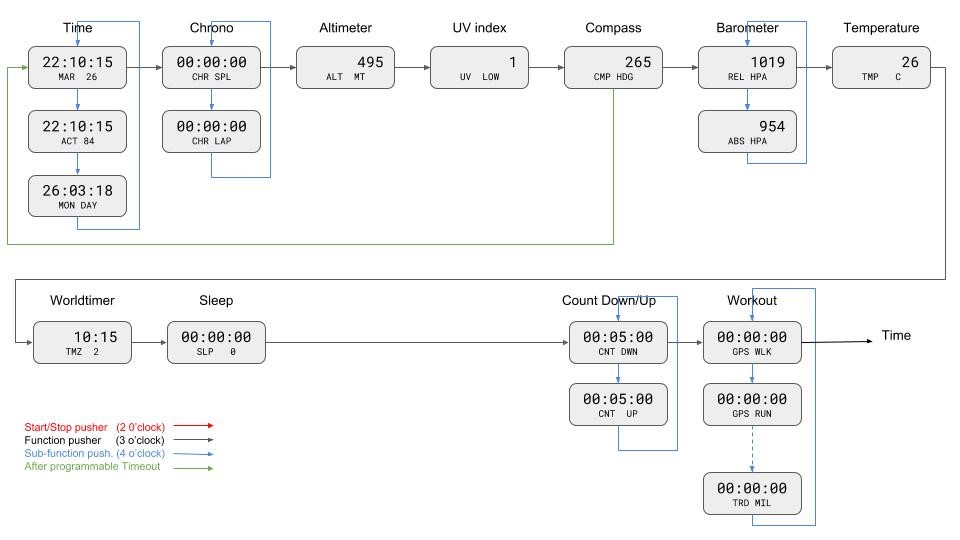 The functions can be selected/deselected in the App. The order can also be defined in the App.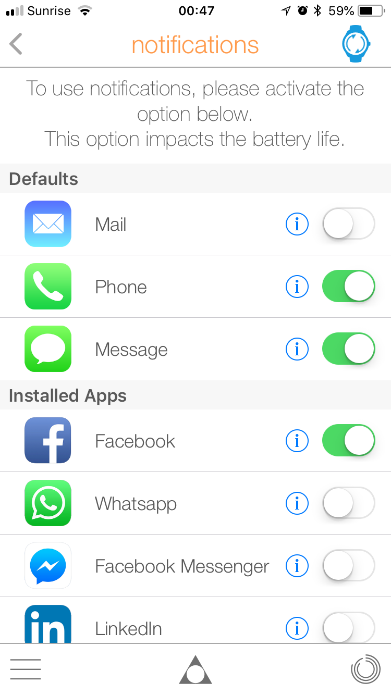 back to top
How do I create a Cloud account? Why should I do that?
Setting your Cloud account enables you to securely store your data and restore them on any of your devices, on your new smartphone for example. This way you never loose any of your data. The data are securely saved in our proprietary cloud in Switzerland. Our strict privacy policy ensures that your data will be kept safe. You will also be able to analyze your data via the Swiss Cloud Portal: https://swisscloudportal.com/login